2023 RACE INFO
We are back from a brief hiatus and ready to run!
2023 race day is scheduled for October 1, 2023.
The Sekani trail run is a 5k/10k event (plus a free Kids' 1k) located at Spokane's Camp Sekani Park, an incredible 125 acre natural park bordering beautiful Minnehaha. The run is an adventure run/hike/walk race with 100% dirt trails and fabulous course challenges with ~700 feet of elevation gain for the 10k run! The trails run above the Spokane River and provide great views of the City of Spokane and surrounding areas.
This is a great event for both experienced trail runners and those getting into trial running for the first time. If this is your first trial run, be warned, you will get addicted to trail running!
This event is 100% volunteer run and all proceeds benefit Franklin Elementary school's APPLE program.
Registration is now open!
Be sure to register early for the best price and for the commemorative finisher t-shirt.
Register at Active.com
Keep an eye on this page for more updates.
Please get in touch with us at [email protected] with any questions.
We hope to see you there!
COURSE MAP: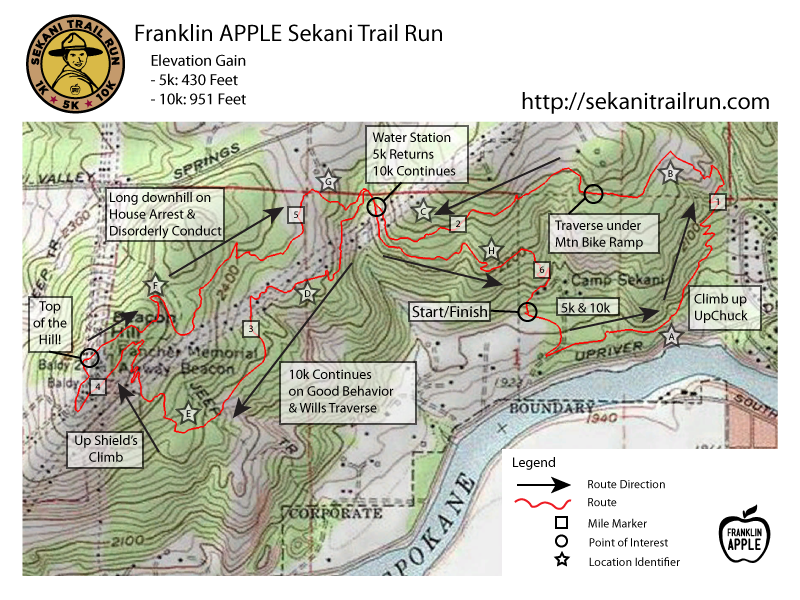 AID STATIONS:
5k: There will be one aid/water station on the 5k course. The aid/water station is located after mile 2, just before you start your final push to the finish line.
​
10k: There is one aid/water station on the 10k course, but you will pass it twice. The 10k course is shaped sort of like a figure 8 or a bow (so you have new amazing trial and views the entire time!). Due to the shape of the 10k course, the aid/water station is ideally located in the center of the figure 8 (or bow). You will pass it first after mile 2, and again just mile 5.
​
Please help us keep this amazing park clean by depositing all garbage (including cups, gel and energy bar wrappers, etc.) in the provided receptacles.
​​MEDALS:
Medals will be awarded to the top three males and females in both the 5k and 10k divisions.
​
​DOGS:
Dogs are great, but please leave them at home for this event.